Goed brandhout is essentieel als het gaat om milieuvriendelijk en voordelig stoken
Alle houtsoorten zijn geschikt als brandhout
Als u stookt met een houtkachel is het over het algemeen niet zo dat er houtsoorten zijn die beter branden dan andere. Maar doordat de zwaarte van de houtsoorten wel verschilt, geldt dat ook voor de manier waarop ze branden. Lichte houtsoorten zijn makkelijk te kloven en aan te steken en zijn daarom geschikter als u de kachel gaat aansteken. Daar staat tegenover dat ze sneller branden dan de zware houtsoorten en wat minder warmte afgeven. Het is daarom slim om lichte en zware houtsoorten te combineren als u zuinig wilt stoken.

Berken, beuken, eiken, essen, iepen en hout van fruitbomen zijn allemaal geschikt om te kloven en als brandhout te gebruiken.

Drukgeïmpregneerd hout, spaanplaten, gekleurde brochures of glanzend papier daarentegen zijn niet geschikt voor een houtkachel. Daarbij worden zoutzuur en zware metalen gevormd en die zijn zeer schadelijk voor de kachel en voor het milieu.

Brandhout voor uw Lotus kachel moet een doorsnede hebben van 7-9 cm en een maximale lengte hebben van ca. 30 cm, omdat het anders te dicht bij de zijkanten van de kachel komt.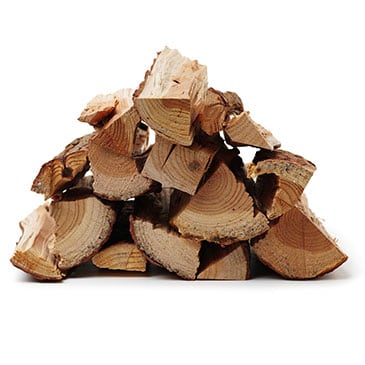 Goed brandhout

is droog brandhout

Goed brandhout op de juiste manier aansteken. Daar gaat het allemaal om als u lekker wilt genieten van uw kachel. U kunt uw brandhout de hele zomer opslaan onder een afdak of een dekzeil (maar wel altijd met lucht bij de zijkanten). Het belangrijkste is dat het hout droog wordt bewaard. Als het herfst begint te worden, kan het hout water opnemen vanuit de lucht. Stoken met vochtig brandhout is niet alleen slecht voor het milieu, maar ook voor uw houtkachel en uw schoorsteen.
Het brandhout moet een vochtigheidsgraad hebben van 15-20%.

Vers hout dat gezaagd en gekloofd is moet, afhankelijk van de houtsoort, 1-2 jaar liggen onder een afdak met voldoende ventilatie.

Alleen

hout

Het is belangrijk om te weten dat aansteken en stoken met melkpakken of ander huishoudelijk afval schadelijk is. Niet alleen voor het milieu, maar ook voor de houtkachel. Hetzelfde geldt voor stoken met hout dat onder druk geïmpregneerd of op een andere manier behandeld is. Gebruik daarom alleen droog en onbehandeld hout bij het stoken en gooi huishoudelijk afval e.d. gewoon in de container.

Verkeerde dingen verbranden kan allerlei schadelijke gevolgen hebben: roetvorming in de schoorsteen, lastig aansteken, aanslag op het glazen deurtje, stinkende rook, onzuivere verbranding en daarmee ook een slecht stookrendement.