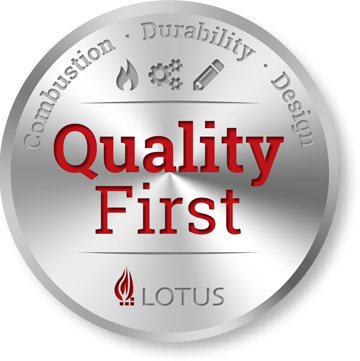 Quality

First

- Our way of thinking wood-burning stoves
You know it. You know when you are facing a quality product and when you are not. Quality has its own language, its own expression. You can see it. You can feel it. You can hear it.

Our aim is to give you this experience the first time you see our wood-burning stoves and fireplace inserts. And we aim for more than that. We want you to pay attention to the flames, the clean combustion, the thickness of the glass, the sound of the door opening and closing, and the well-thought-out design.

When we think of stoves, we first of all think of quality - in all dimensions. Our stoves must provide the best possible combustion and ensure the lowest possible CO2 emissions.
They must be durable and solid, and their design must be functional and elegant.

With this in mind, we have been developing and producing wood-burning stoves for more than 40 years. And that is why our stoves heat up thousands of homes in Denmark, Germany, Norway, Sweden, France, Switzerland, the Netherlands, Italy, Greece, and the UK.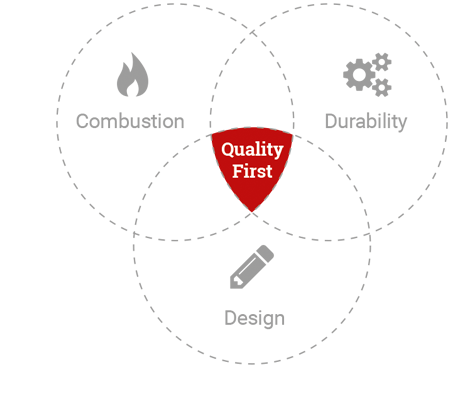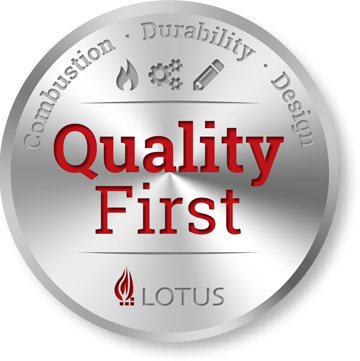 Combustion
High temperature oven
Clean combustion
High utilization of
burn CO2 neutral
Durability
Thick rolled steel
Powerful doors
5 mm glass in the doors
10 year warranty
Design
Functional
User friendly
Complete form
Dansk
Artisanal quality

, elegant design and functionality

Since the development of the Lotus 5000 and 6000 series, architect Kaare Sølvsten has been responsible for the design of our stoves that are made in close co-operation with technicians and manufacturers. Lotus stoves are built on the basis of three values: high-tech artisanal quality, elegance and functionality.

Technique
All Lotus stoves are convection stoves ensuring you a quick distribution of the heat.
The advanced combustion system provides a good and environmentally friendly CO2-neutral combustion. The air wash system leads the combustion air down in front of the glass, thus ensuring you a nice and clean view of the flames. If you combine the stove with a stone cladding, your stove will exploit the heat dissipation optimally.

Functionality
Lotus always has functionality in mind. Because if the stove is not user-friendly and easy to operate, it creates problems for you in your everyday life. Therefore, the entire functionality and operation of a Lotus wood stove has been considered thoroughly and tested again and again. Our many years of experience form the basis for the optimal functionality which we combine with designs from one of Denmark's leading architects - Kaare Sølvsten. In addition, we use the best processed materials. The sum of these things provides stoves that fulfil your desires and ensure trouble-free operation.
Green Burn

Technology

Green Burn Technology (GBT) is incorporated into all Lotus products. Lotus stoves and fireplace inserts are manufactured in accordance with environmentally friendly requirements, and we meet some of the strictest environmental standards.
Lotus focuses on developing modern and environmentally friendly stoves with a minimum impact on the environment. This is obtained by an advanced combustion technology which we constantly strive to develop and optimise through constant updating and testing of our products. It is our vision to reduce particle emissions to a minimum and create a cleaner combustion through an efficient combustion system.
Burning wood is CO2-neutral and thus does not contribute to global warming. Our authorised dealers are specially trained to advise the end user on the correct use of the stove and how to operate it. If the stove is operated correctly according to our instructions, you will exploit the wood optimally and thereby obtain the best possible efficiency of the stove and the least possible environmental impact.